Reading Time:
4
minutes
Cooking is a tough teacher and a harsh critic. Either your food is delicious, or it isn't.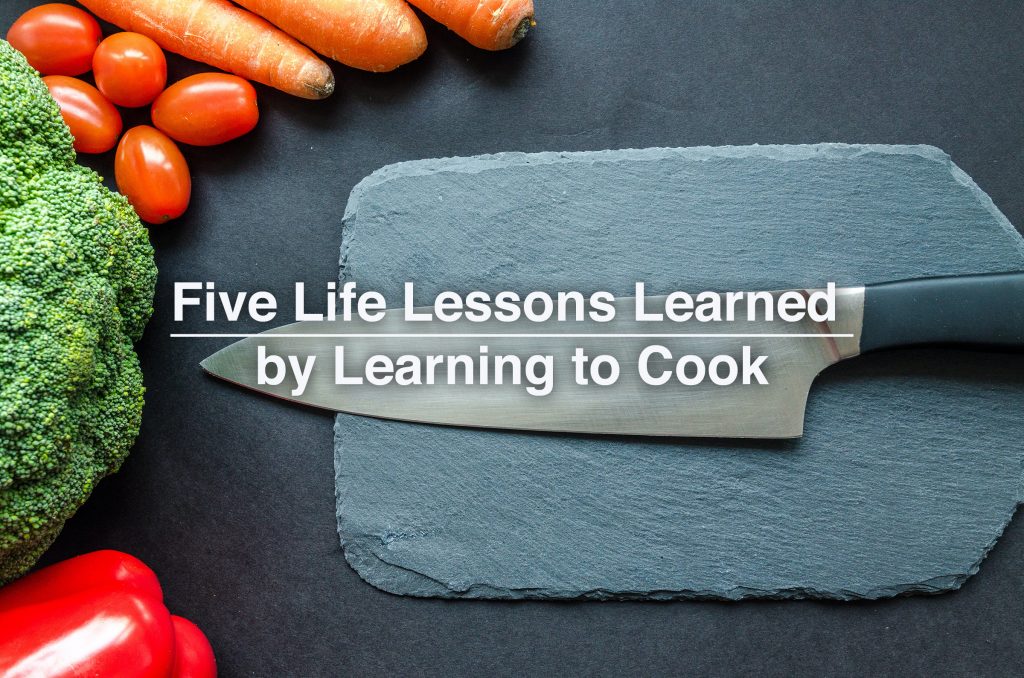 I used to be a terrible cook. Insert your stereotypical bad home cooking annecdote here… that was me. Then my wife and I signed up for a popular cook at home subscription box and suddenly things started to change.
Having struggled with cookbooks for years, being handed a Lego-style assembly kit for restaurant-quality food just seemed to click with me for some reason. The barrier of entry, preparing a shopping list and not forgetting anything while at the supermarket, was gone. I had everything I needed in order to start.
Over the coming months, I gradually learned how to cook. I developed knife skills. I learned the fundamentals of combining ingredients to enhance the overall flavour. Patterns started to emerge. Not only did I learn some valuable lessons about cooking, but cooking taught me some valuable lessons about life.
So here they are.
1. Prepare Everything Before Food Meets Heat
Mise en place is a beautiful French culinary term which quite literally means "put in place". Everything a chef needs to cook a delicious meal is prepared in advance and positioned ready to be used at just the right time. Salmon is sliced. Herbs are picked, washed, and chopped. Potatoes are peeled. Knives, frying pans, oils, and seasonings are all where they're supposed to be.
For a meal to turn out right every time you cook it, you can't be hunting through drawers looking for a lemon zester while your sauce burns on the hob.
For years I refused to do this. "Why should I waste extra time before I start cooking when I can do all of that while I'm waiting for…". I was missing the point. It was very short-term thinking.
Trying to prepare ingredients while jostling pots and pans is like trying to put on a parachute after you've already jumped out of the plane. Yeah, it's possible to pull it off, but why take the risk?
Cooking when you're fully prepared, when your 'mise en place' is just right, is rewarding, relaxing, and even enjoyable. There will be times when you can pause and reflect, watching what you're creating take shape. Pour yourself a glass of wine. Enjoy a fresh cup of coffee. Check Facebook… whatever makes you happy. When you're prepared you can enjoy your experiences.
Cooking while unprepared is like commuting to the office after you've slept in and missed your usual train. The whirlwind performance of a TV chef is food-theatre. Fun to watch but stressful to recreate.
Now when I cook I take time to prepare. I'd rather spend 5 extra minutes before starting to ensure I get it right than save the 5 minutes and waste the next hour as my evening goes up in smoke.
2. Figure Out the Bigger Picture
Whatever it is you're doing, it's important to know how your current task fits into the end result. If you understand what you're trying to achieve, when things go wrong you can adapt and improvise within the constraints of the goal and still make it work.
Following a recipe step-by-step like a robot following instructions might result in a delicious meal but you probably won't take much away from the experience. Unless you step back and look at what is going on you risk missing the lessons that are right in front of you.
As Chuck Palahniuk said, "the trick to forgetting the big picture is to look at everything close-up."
3. Understand The Whole Process
Something I try to do when cooking a new recipe or attempting a new task for the first time is to read through all of the instructions from start to finish a couple of times before doing anything at all. At first, it can be a daunting set of instructions that are impossible to remember, but in time, especially with cooking, you'll start to detect common patterns between recipes.
As you gain experience you will be able to condense instructions into sequences of 'another one of those things I've done before'. Separate leaves and stems then roughly chop the herbs. Cube the root vegetables for faster cooking. Make a rue for the sauce with fat and flour then add flavour. Cookbooks don't usually break cooking down into common themes. Every recipe is a standalone set of instructions. The bridge between them all is in your own understanding.
Only when you detach and review the whole process in full will reusable learnings become clear.
4. Sometimes Things Burn
We all make mistakes. We apply our attention to the wrong thing at the right time. Dishes burn. We try and we fail. Things go in the bin.
That's part of learning. The takeaway here is to reflect on why it burned. What were we doing that we shouldn't have, and what should we have been doing instead? How can we improve next time?
5. Creativity is a Risk, But One You Should Take
Sometimes you tweak a recipe and magic happens. Other times it sucks and everything goes in the bin. Taking risks is fine, essential even, as long as you do it at the appropriate time with the right risk mitigation in place.
Add a squeeze of lemon if you feel like it might work, just don't do it in Christmas day when the in-laws are on their way. Save your failures for when it's OK to fail and learn when to play it safe.