Reading Time:
7
minutes
How scammers sell fake 'counterfeit' cash on Instagram for big profits at the expense of the needy and greedy.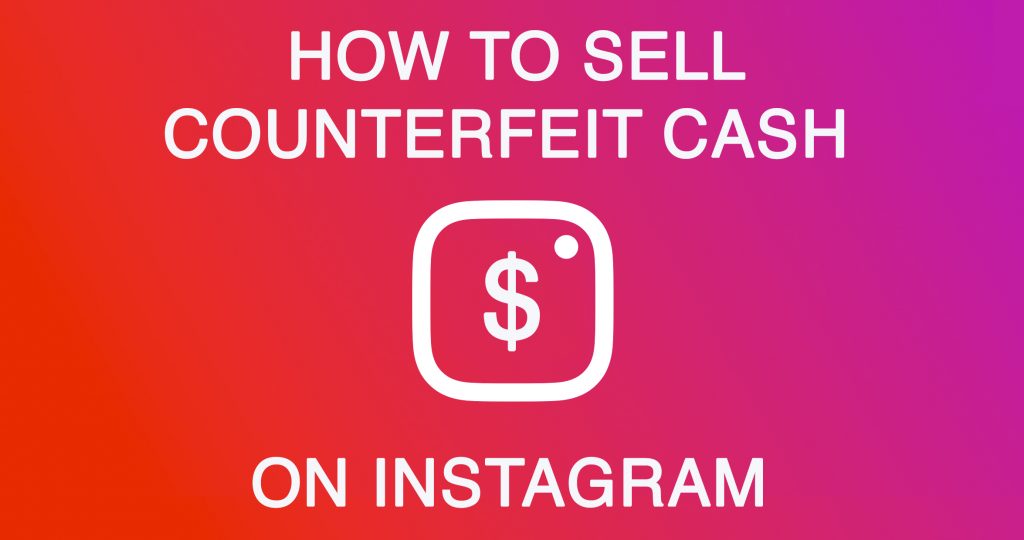 I encountered a counterfeit cash seller on Instagram. Naturally, I tried to purchase £4,000 in fake bills for just £300. What a steal. Here's what I learned.
How to Sell Fake Cash on Instagram
There are hundreds of counterfeit money sellers on Instagram. A quick search for terms like 'fake cash' will reveal hundreds of accounts and thousands of posts that look like this: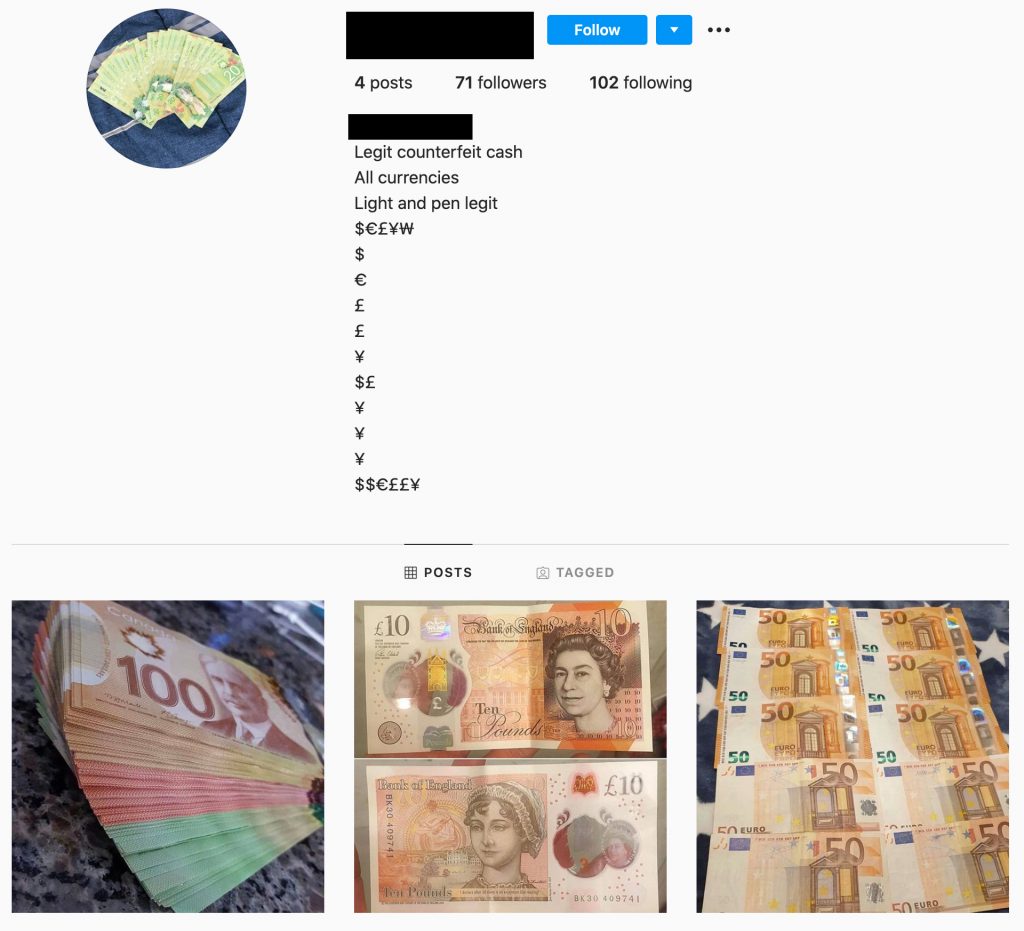 These profiles are easy for the Instagram team to find and delete. In the time it has taken me to write this article, many of the accounts I've discovered have already been removed.
There is, however, a stealthier approach which reduces the chance of the Instagram moderation team banning a profile. Instead, sellers can create profiles which don't include any of the fake cash keywords at all. Rather than messaging people to solicit sales, they simply post photographs and videos of fake money, follow a bunch of people, then wait to be followed back and contacted. This makes all of their interactions look a lot less suspicious.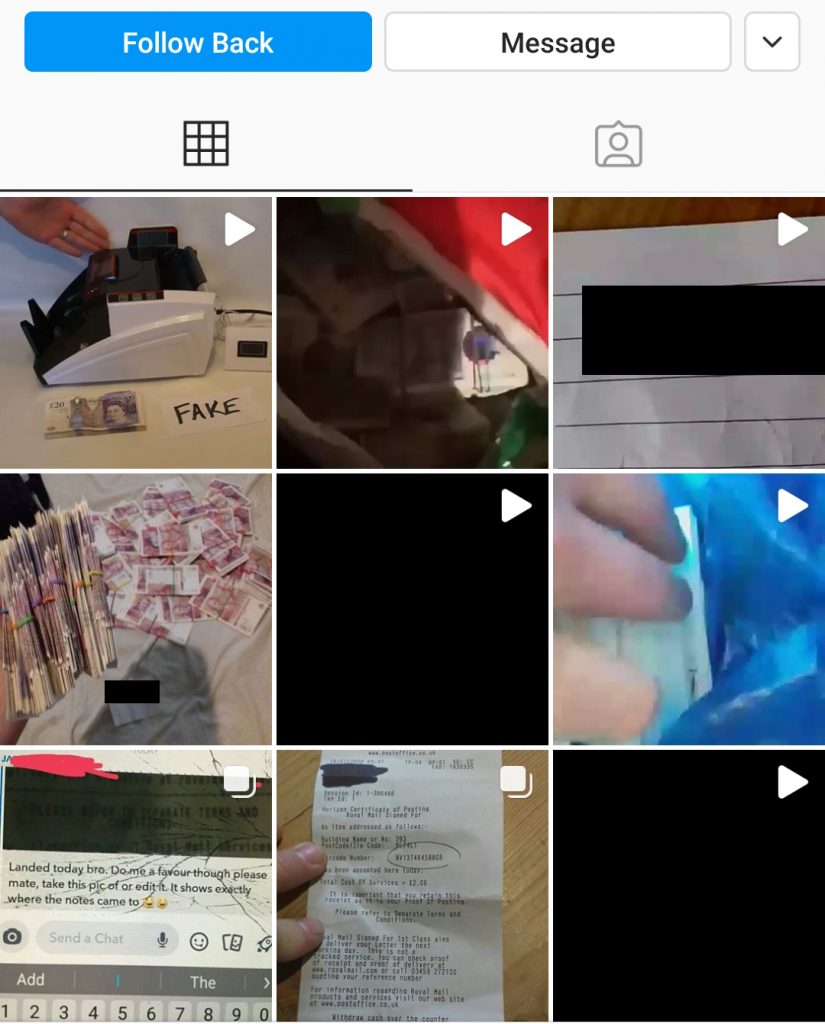 Regardless of how they are discovered by their customers, this is how it works.
Step 1: Get Lots of Fake Banknotes
Organised crime is dangerous. Counterfeit cash that looks exactly like the real thing is only produced by serious criminal organisations. If you can print money that looks just like and easily passes for the real thing, you don't sell it at 10% of its face value. You spend it. Well, some of it. Most of it you'd launder through legitimate cash-heavy businesses such as restaurants, taxi firms, and nightclubs. By doing so you can turn forged banknotes into real digital money that you can use to pay your mortgage without raising questions.
Fake cash sellers on Instagram don't have high-quality counterfeit bills. Yet, they still claim to have bills that pass the counterfeit tests. The first profile screenshot in this article states 'light and pen legit'. This means it will pass the counterfeit ink pen test and UV light test in a shop. However, that still doesn't mean they're good forgeries. The bills are marked with subtle or obvious markings showing that they aren't real. Often the serial numbers are all the same. Good luck paying these into a bank account.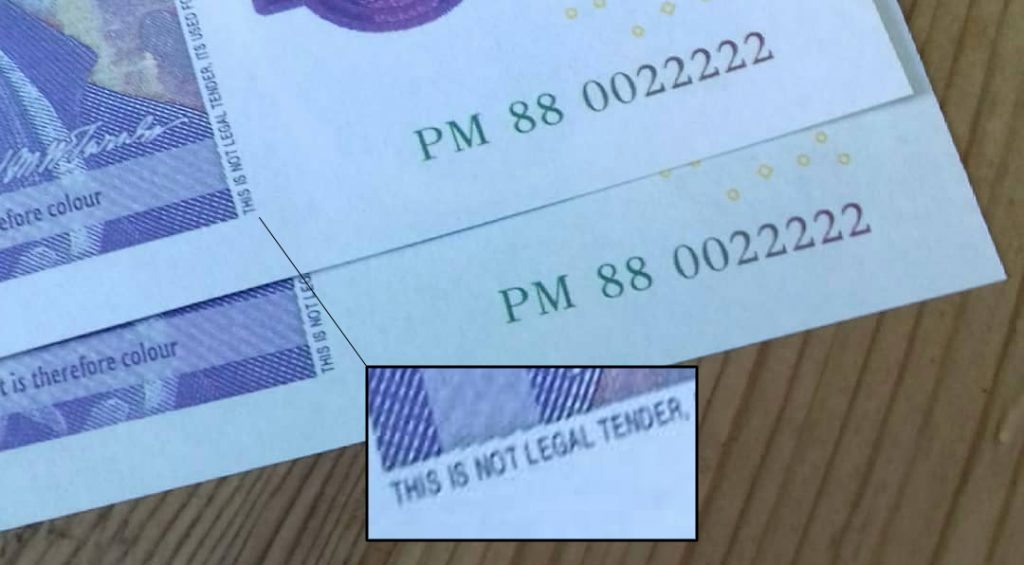 How To Buy Fake Cash in Bulk
What they're selling is no more than Monopoly money. It's paper money manufactured for the film and TV industry. When you see a scene in a movie where the protagonist is rolling around in cash, it's not real money. It's fake money, just like this. It looks real enough on camera to be believable in the story but fake enough in person to not be illegal to produce or possess.
If you search for 'prop money UK' on google you'll even get Google Ads offering to sell it to you.

When you see people on Instagram selling fake cash, this is what you're getting. Please don't be fooled into thinking it's something you can walk into a shop with and spend without risk. The best chance you'll have is to buy something from Facebook marketplace or Craigslist and hope you'll be far enough away from the exchange point to not get jumped by your victim when they realise they've been scammed.
Step 2: Create an Instagram Account
Anyone can register for an Instagram account. Just pick a username like Fake_Money_69K or something along those lines if you want people to find you by searching. Be a little more subtle if don't want to get banned straight away. Just don't put in your real Facebook details or phone number and you should be good to go.
Step 3: Upload Photos and Videos of your Fake Cash
People want to see what they're buying and the want to know that the counterfeit cash looks legit. As a seller you have two choices:
Upload photos and videos with bad enough quality/lighting/positioning/masking to prevent people from spotting the deliberate 'not legal tender' or 'sample specimen' markings
Upload photos and videos of real money in place of counterfeit notes
The bait and switch approach of option 2 is perfect for online transactions as there is nobody to turn to if the product they get doesn't match exactly what they saw in the advert. The problem is, that means you need up to 50 grand lying around in duffel bags in your home. If anyone finds out you have that, you won't have it for long.
This is why most sellers go for option 1 and upload poor quality photographs and videos of cash in bulk.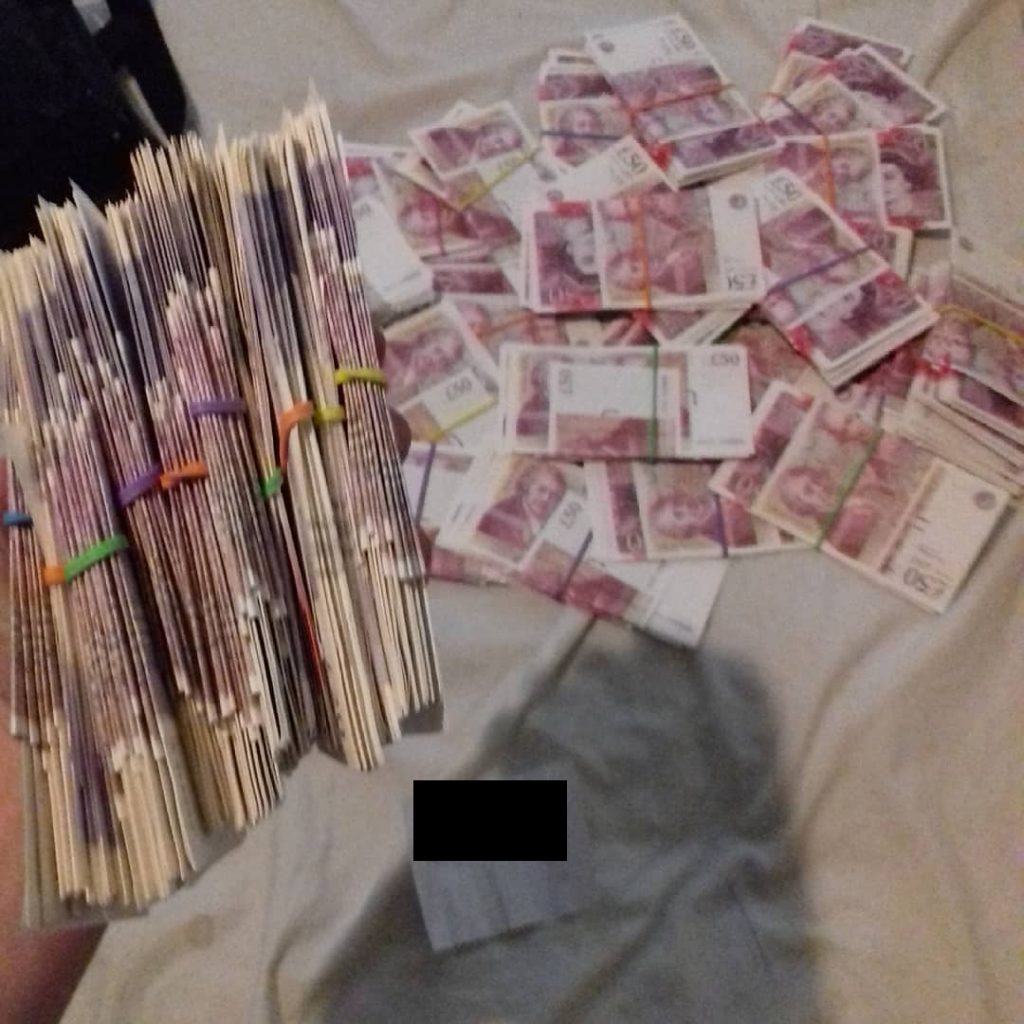 Step 4: Start Following People on Instagram
For best results, pick the profile of a trendy restaurant on Instagram, then start following everyone who follows them, then everyone who follows the people who follow them, and so on. Don't message anyone. Don't tag anyone. And don't do anything else. Just start following people until curious people contact you.
Step 5: Make a Sale
Sooner or later someone will contact you asking for more details. Be up front and clear about what it is you're selling.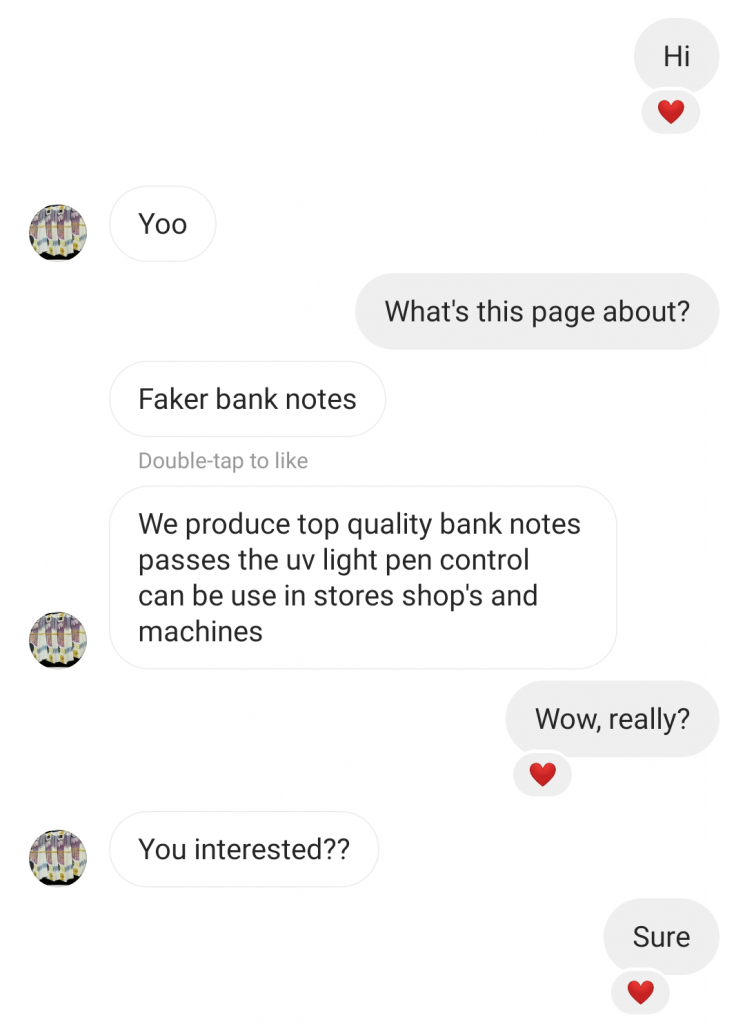 Once you've qualified an interested buyer, check which country they're in and give a list of prices and let them know how to pay.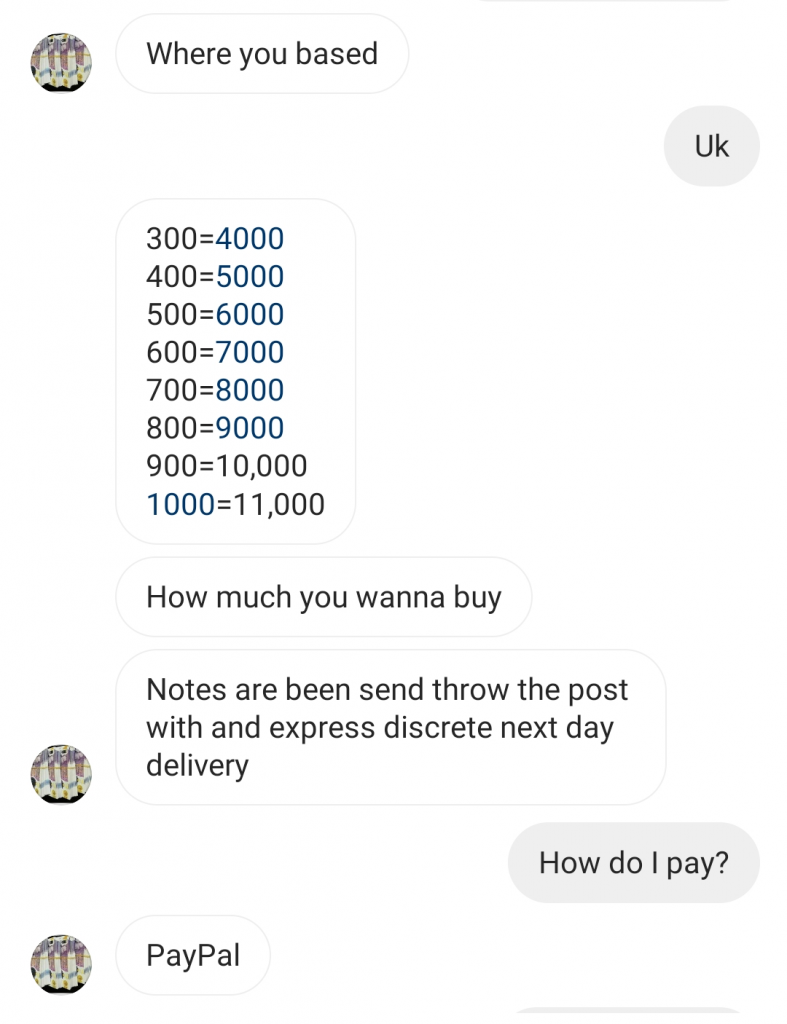 Step 6: Take Payment
Everyone has a PayPal account these days. Give the customer your email and wait for payment before posting. Simple, right? Not quite. This is where it starts to get more interesting.
How to Stay Safe While Accepting PayPay for Criminal Activity
In order to take payments online, you need a payment gateway of some description. PayPal is widely used and easy for people to get started and make payments with. All you need is a PayPal account and a seller's email address and you can send them money.
The problem is, if you're committing crimes online, the last thing you want is dirty money making its way to your own PayPal account linked to a bank account in your name. You might as well walk into a police station and hand yourself in and save everyone the hassle of finding your address and arresting you.
So when you're taking money from one victim with a counterfeit cash scam, you need another victim to accept the incoming payment and convert it into Bitcoin, then send you your cut. Victim number 2 makes some easy money in the guise of a money flipping investment and victim number 1 makes some easy money by buying fake cash for real cash. Both victims think they're getting a good deal except the owner of the fake cash can't spend it (it's just monopoly money) and the PayPal to Bitcoin converter is on the hook for the sale of fake cash.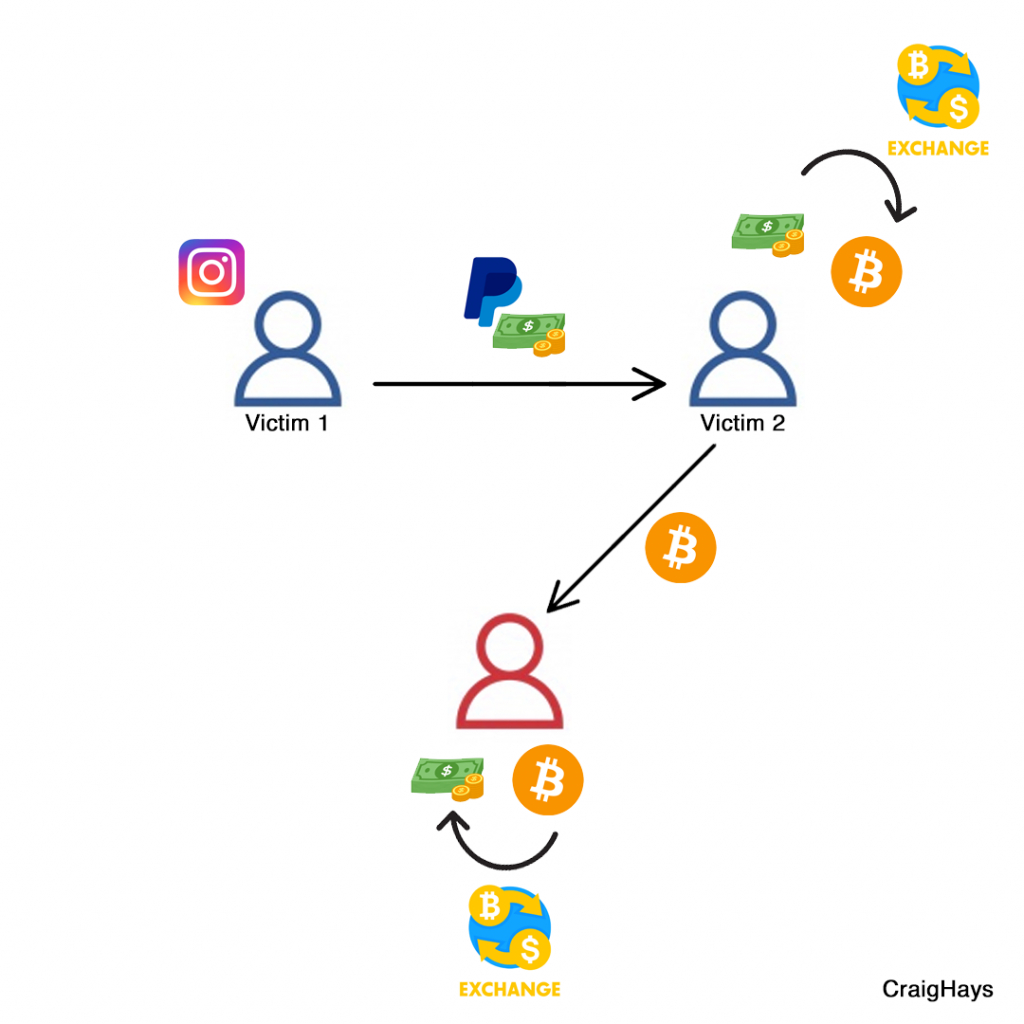 The fraudster uses a bitcoin tumbler or bitcoin mixer to clean the coins, removing any direct link between the original transaction and themselves, then converts the clean coins back into a currency of their choice. The cost of the commission to Victim 2 and the bitcoin laundering is minimal compared to the profit returned at the end of the process.
How Am I Sure This is Right?
The seller sent me the PayPal details for payment, demanding a 'friends and family only' payment, again and again. I agreed then I asked them to email me to confirm the address under the pretence that their Instagram account might get deleted and I would need a way to reach them for future sales. They couldn't email from the PayPal address as they didn't have access to it so instead they emailed me from another address. They were also pretty adamant that I didn't send the PayPal payment to their confirmed email.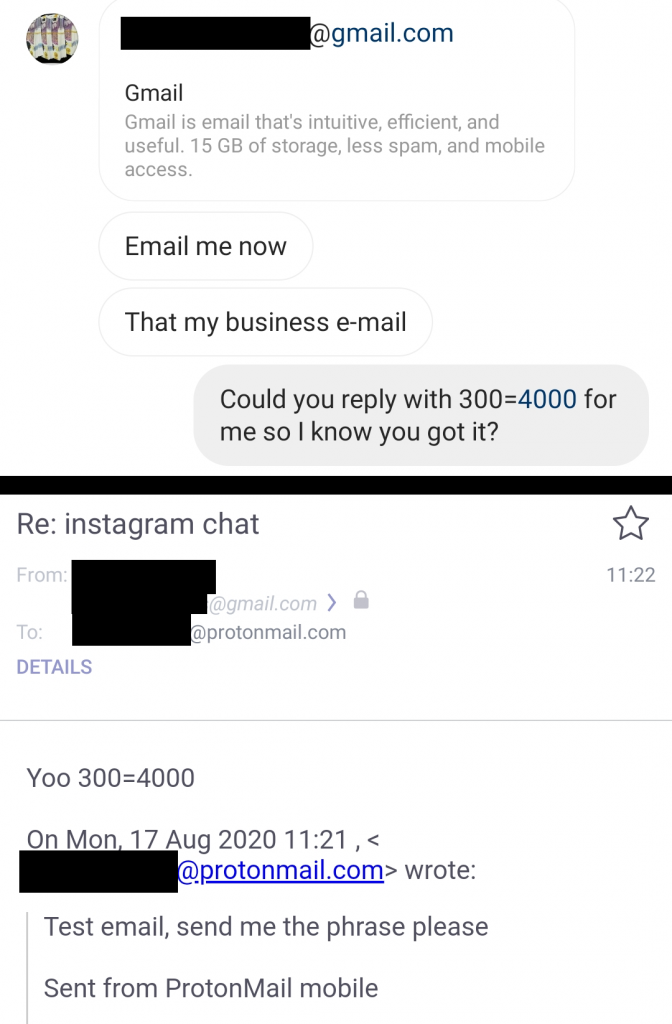 Eventually, they disclosed that the PayPal transaction was going directly to their 'Bitcoin retailer' and that they needed screenshots to confirm my payment. This is just more confirmation that the PayPal account is being used to launder the money through another victim.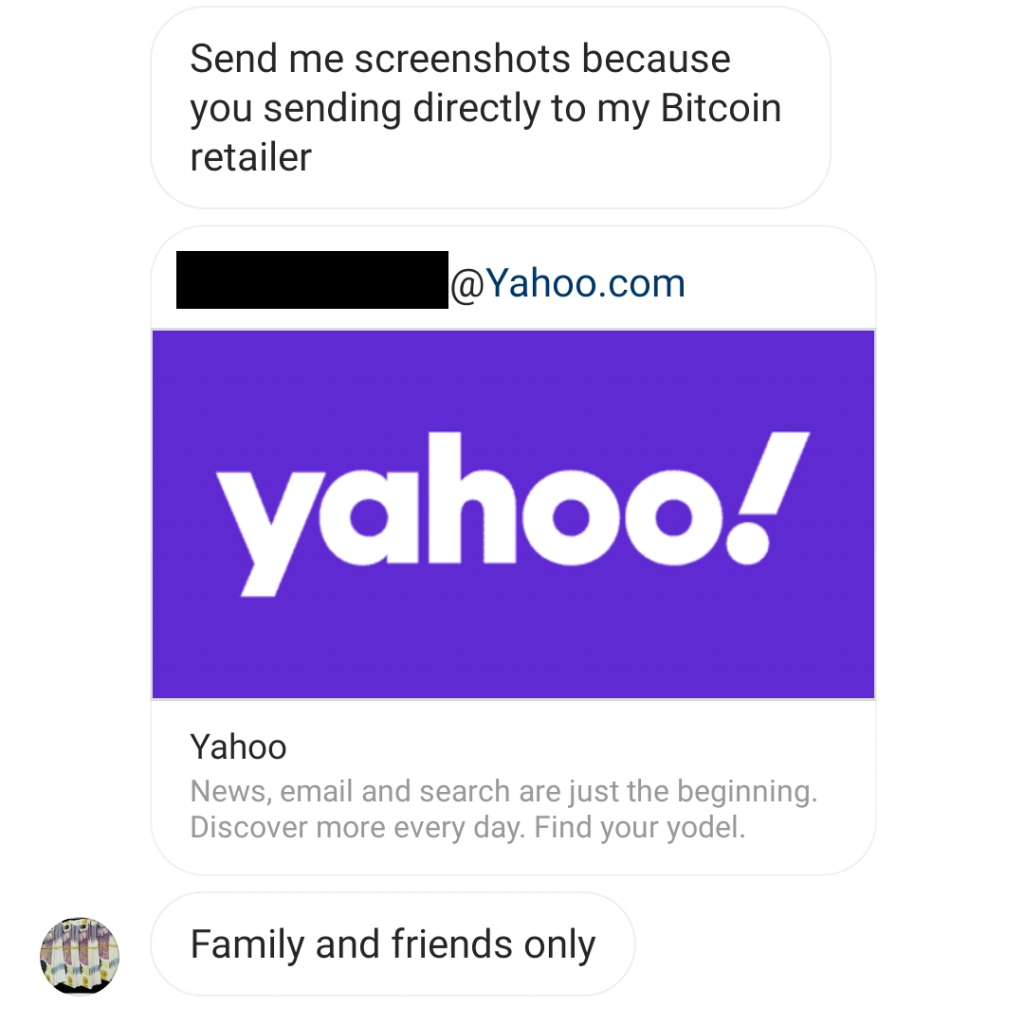 I spent some time probing for details on their operation security but got nowhere with it. They just kept telling me they'd been doing it for years and never had a problem and all packages were sent discretely through the mail from within the UK (no customs). I'm also fairly certain that the account was a copycat of another seller as the Instagram account name had 1 more character than the name on all of the watermarks in the videos and photos.
Step 7: Send The Fake Cash in the Mail (Optional)
Whether or not you'll receive anything after buying 'counterfeit' cash online is entirely down to the seller. Best case, your fake notes will arrive in a brown envelope within a few days but you still won't be able to spend them. Worst case, you receive nothing at all. What are you going to do if your notes don't turn up… call the police?
Selling fake cash on Instagram is easy money. People are always greedy and people are needier than ever. The COVID-19 pandemic has left many out of work and out of pocket. Who wouldn't like a few extra pounds in their wallet to put food on the table?
Don't buy into these scams. They really are too good to be true and the victims are you and your local community.